Imagine my delight when I got an email asking if I wanted to join in a Bestie Quilt Along with two of the sweetest gals around? These fabulous quilters and I have been friends for a few years now and have only met each other once! But we had the best time when we were together that it solidified our friendship forever. Candice, who has a heart of gold, and Jana who has the best sense of humour ever, invited me along. Candice is the genius behind this adventure and describes it this way, 'Way back when, I had a brilliant idea of having identical Bestie quilts, you know so that you can snuggle "with your Bestie" wherever you are!'
I didn't mention to them that I have never done a QAL, let alone a Bestie QAL, so I am a tad bit nervous. How embarrassing would that be to screw up! In order to keep me straight and narrow, I want to invite you guys along, my blog besties!
The details are quite simple. Select fabric and a quilt pattern with your Bestie, and make identical quilts! For this QAL, Jana, Candice, and I will be using Flea Market Fancy, and the Swoon Quilt Pattern. Feel free to use the fabric and pattern that we're using, or come up with your own combination- the choice is totally up to you!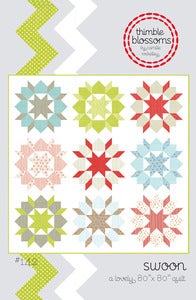 The best part, is that there isn't a rigid QAL schedule that you need to keep up with, just sew at your pace and know that others are rooting for you to finish. I'd love to hear if you're interested in joining; simply leave a comment below and I'll work on setting up a Flickr Group, so that we can share progress photos.